➠ [Testing Update] 2022-08-04 - Kernels, Nvidia, Thunderbird, Cinnamon, KDE-git
Hello community,
Another testing branch update with some usual updates for you.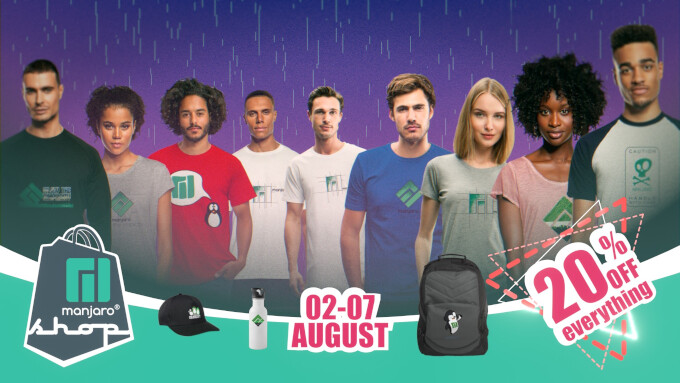 Checkout the store. From 2nd till 7th we offer 20% discount!
Some of our Kernels got updated

Note: 5.17 series got dropped from our repos. Please adopt to 5.18 or 5.19 series.

Thunderbird is now at 91.12.0
Cinnamon got further updates
All our Nvidia drivers got updated: 390.154, 470.141.03, 515.65.01
Regular KDE-git updates
Additional Info
Info about AUR packages
(click for more details)
Get our latest daily developer images now from Github: Plasma, GNOME, XFCE. You get the latest stable releases of Manjaro from CDN77.
---
Our current supported kernels
linux419 4.19.254
linux54 5.4.209
linux510 5.10.135
linux515 5.15.59
linux518 5.18.16
linux519 5.19.0
linux515-rt 5.15.55_rt48
linux518-rt 5.18.0_rt11
linux519-rt 5.19.0_rt10
Package Changes (Thu Aug 4 07:50:13 CEST 2022)
testing core x86_64: 5 new and 5 removed package(s)
testing multilib x86_64: 1 new and 1 removed package(s)
testing extra x86_64: 83 new and 83 removed package(s)
testing community x86_64: 77 new and 73 removed package(s)
:: Overlay Changes
testing core x86_64: 8 new and 8 removed package(s)
testing multilib x86_64: 6 new and 6 removed package(s)
testing kde-unstable x86_64: 94 new and 94 removed package(s)
testing extra x86_64: 71 new and 71 removed package(s)
testing community x86_64: 18 new and 8 removed package(s)
:: Different overlay package(s) in repository community x86_64

-------------------------------------------------------------------------------
                             PACKAGE           2022-08-03           2022-08-04
-------------------------------------------------------------------------------
                            cinnamon              5.4.8-1              5.4.9-1
                   game-devices-udev               0.16-1               0.17-1
            linux515-rt-nvidia-390xx            390.151-9            390.154-1
            linux515-rt-nvidia-470xx         470.129.06-9         470.141.03-1
                  linux515-rt-nvidia             515.57-4          515.65.01-1
            linux518-rt-nvidia-390xx            390.151-3            390.154-1
            linux518-rt-nvidia-470xx         470.129.06-3         470.141.03-1
                  linux518-rt-nvidia             515.57-2          515.65.01-1
                         linux519-rt                    -        5.19.0_rt10-1
               linux519-rt-acpi_call                    -              1.2.2-1
             linux519-rt-broadcom-wl                    -       6.30.223.271-1
                 linux519-rt-headers                    -        5.19.0_rt10-1
            linux519-rt-nvidia-390xx                    -            390.154-1
            linux519-rt-nvidia-470xx                    -         470.141.03-1
                  linux519-rt-nvidia                    -          515.65.01-1
                linux519-rt-tp_smapi                    -               0.43-1
             linux519-rt-vhba-module                    -           20211218-1
 linux519-rt-virtualbox-host-modules                    -             6.1.36-1


:: Different sync package(s) in repository community x86_64

-------------------------------------------------------------------------------
                             PACKAGE           2022-08-03           2022-08-04
-------------------------------------------------------------------------------
                            audacity            1:3.1.3-1            1:3.1.3-2
                       audacity-docs            1:3.1.3-1            1:3.1.3-2
                             aws-cli            1.25.17-2            1.25.44-1
                             buildah             1.26.2-1             1.26.3-1
                        cargo-expand             1.0.28-1             1.0.29-1
             cinnamon-control-center              5.4.4-1              5.4.6-1
                cinnamon-screensaver              5.4.1-1              5.4.2-1
            cinnamon-settings-daemon              5.4.3-1              5.4.4-1
                   containers-common           1:0.48.0-1           1:0.48.0-2
                            corectrl              1.2.4-2              1.2.5-1
                           dart-sass             1.54.0-1             1.54.1-1
                 deepin-image-viewer             5.8.13-3             5.8.15-1
                         dns-lexicon             3.11.3-1             3.11.3-2
                     element-desktop             1.11.1-2             1.11.2-1
                         element-web             1.11.1-2             1.11.2-1
                          featherpad              1.3.0-1              1.3.1-1
                               gajim              1.4.5-2              1.4.7-2
                                 gdu             5.14.0-1             5.15.0-1
                             gpodder            3.10.21-2             3.11.0-1
                                 gum              0.2.0-4              0.3.0-1
                           heaptrack              1.3.0-2              1.4.0-1
                          ibus-table             1.16.9-1            1.16.10-1
                             jenkins              2.361-1              2.362-1
                 lua-language-server              3.5.1-1              3.5.2-1
                               lxcfs              5.0.1-1              5.0.1-2
                            mailman3              3.3.5-5              3.3.5-6
                          metasploit              6.2.8-1             6.2.10-1
                              muffin              5.4.4-1              5.4.5-1
                                 mvt              1.5.5-1              2.1.2-1
                             nerdctl             0.22.0-1             0.22.2-1
               netfilter-fullconenat      r73.0cf3b48-225      r73.0cf3b48-226
                    nextcloud-client            2:3.5.3-1            2:3.5.4-1
     nextcloud-client-cloudproviders            2:3.5.3-1            2:3.5.4-1
                                 npm             8.15.1-1             8.16.0-1
                                 oil             0.12.0-1             0.12.3-1
                           paperwork              2.1.1-1              2.1.1-2
                              podman              4.1.1-2              4.1.1-4
                       podman-docker              4.1.1-2              4.1.1-4
                             pyright            1.1.264-1            1.1.265-1
                       python-apipkg              2.1.1-1              3.0.1-1
                        python-boto3            1.24.27-1            1.24.44-1
                     python-botocore            1.27.27-1            1.27.44-1
                     python-cachelib              0.8.0-2              0.9.0-1
                         python-dask           2022.6.1-1           2022.7.1-1
                  python-distributed           2022.6.1-1           2022.7.1-1
                     python-fixtures             3.0.0-12              4.0.1-1
                python-flask-caching              2.0.1-1              2.0.1-2
                   python-ipywidgets              7.7.1-1              7.7.1-2
                   python-jsonschema              3.2.0-6              4.9.0-1
                  python-lark-parser             0.12.0-1              1.1.2-1
                  python-levenshtein             0.12.2-3             0.20.1-2
     python-openapi-schema-validator              0.1.5-3              0.3.0-1
                        python-parso            1:0.8.2-3            1:0.8.3-1
                      python-pytools           2022.1.7-1           2022.1.8-1
                           python-sh             1.14.2-3             1.14.3-1
                          ruby-async             1.29.0-1             1.30.3-1
                      ruby-async-dns              1.2.5-1              1.2.6-1
                       ruby-async-io             1.30.2-1             1.33.0-1
                        ruby-daemons              1.3.1-2              1.4.1-1
                            ruby-hoe             3.22.3-3             3.24.0-1
          ruby-jekyll-sass-converter              2.1.0-2              2.2.0-1
                ruby-minitest-sprint              1.2.1-2              1.2.2-1
                     ruby-mustermann              1.1.1-1              3.0.0-1
                  ruby-path_expander              1.1.0-3              1.1.1-1
                           ruby-rack              2.2.3-2              2.2.4-1
                        ruby-rainbow              3.0.0-6              3.1.1-1
                         ruby-timers              4.3.2-2              4.3.3-1
                        ruby-trollop              2.1.3-4             2.9.10-1
                           ruby-yard             0.9.26-2             0.9.28-1
                             urlscan              0.9.9-2             0.9.10-1
         v2ray-domain-list-community     20220730021420-1     20220803154734-1
                           watchexec             1.20.4-1             1.20.5-1
                              zellij             0.31.0-1             0.31.1-1
                  python-jarowinkler                    -              1.2.0-2
                    python-rapidfuzz                    -              2.4.2-2
               python-rapidfuzz-capi                    -              1.0.5-3
                       rapidfuzz-cpp                    -              1.1.1-2


:: Different overlay package(s) in repository core x86_64

-------------------------------------------------------------------------------
                             PACKAGE           2022-08-03           2022-08-04
-------------------------------------------------------------------------------
                            linux510           5.10.134-2           5.10.135-1
                    linux510-headers           5.10.134-2           5.10.135-1
                            linux515            5.15.58-2            5.15.59-1
                    linux515-headers            5.15.58-2            5.15.59-1
                            linux518            5.18.15-2            5.18.16-1
                    linux518-headers            5.18.15-2            5.18.16-1
                             linux54            5.4.208-2            5.4.209-1
                     linux54-headers            5.4.208-2            5.4.209-1


:: Different sync package(s) in repository core x86_64

-------------------------------------------------------------------------------
                             PACKAGE           2022-08-03           2022-08-04
-------------------------------------------------------------------------------
                              dialog     1:1.3_20220526-1     1:1.3_20220728-1
                            iproute2             5.18.0-1             5.19.0-1
                          libarchive              3.6.1-1              3.6.1-2
                              python             3.10.5-1             3.10.5-2
                        python-tests             3.10.5-1             3.10.5-2


:: Different overlay package(s) in repository extra x86_64

-------------------------------------------------------------------------------
                             PACKAGE           2022-08-03           2022-08-04
-------------------------------------------------------------------------------
                    libxnvctrl-390xx            390.151-1            390.154-1
                    libxnvctrl-470xx         470.129.06-1         470.141.03-1
                          libxnvctrl             515.57-1          515.65.01-1
               linux419-nvidia-390xx           390.151-18            390.154-1
               linux419-nvidia-470xx        470.129.06-16         470.141.03-1
                     linux419-nvidia             515.57-9          515.65.01-1
                  linux510-acpi_call             1.2.2-53             1.2.2-54
                   linux510-bbswitch              0.8-154              0.8-155
                linux510-broadcom-wl     6.30.223.271-156     6.30.223.271-157
               linux510-nvidia-390xx           390.151-22            390.154-1
               linux510-nvidia-470xx        470.129.06-21         470.141.03-1
                     linux510-nvidia            515.57-10          515.65.01-1
                      linux510-r8168           8.050.03-2           8.050.03-3
                  linux510-rtl8723bu          20220114-47          20220114-48
                   linux510-tp_smapi             0.43-154             0.43-155
                linux510-vhba-module          20211218-49          20211218-50
    linux510-virtualbox-host-modules             6.1.36-5             6.1.36-6
                        linux510-zfs             2.1.5-11             2.1.5-12
                  linux515-acpi_call             1.2.2-56             1.2.2-57
                   linux515-bbswitch               0.8-71               0.8-72
                linux515-broadcom-wl      6.30.223.271-71      6.30.223.271-72
               linux515-nvidia-390xx           390.151-56            390.154-1
               linux515-nvidia-470xx        470.129.06-23         470.141.03-1
                     linux515-nvidia            515.57-11          515.65.01-1
                      linux515-r8168           8.050.03-2           8.050.03-3
                  linux515-rtl8723bu          20220114-50          20220114-51
                   linux515-tp_smapi              0.43-71              0.43-72
                linux515-vhba-module          20211218-52          20211218-53
    linux515-virtualbox-host-modules             6.1.36-6             6.1.36-7
                        linux515-zfs             2.1.5-12             2.1.5-13
                  linux518-acpi_call             1.2.2-20             1.2.2-21
                   linux518-bbswitch               0.8-20               0.8-21
                linux518-broadcom-wl      6.30.223.271-19      6.30.223.271-20
               linux518-nvidia-390xx           390.151-21            390.154-1
               linux518-nvidia-470xx        470.129.06-21         470.141.03-1
                     linux518-nvidia            515.57-12          515.65.01-1
                      linux518-r8168           8.050.03-2           8.050.03-3
                  linux518-rtl8723bu          20220522-20          20220522-21
                   linux518-tp_smapi              0.43-20              0.43-21
                linux518-vhba-module          20211218-20          20211218-21
    linux518-virtualbox-host-modules             6.1.36-5             6.1.36-6
                        linux518-zfs             2.1.5-13             2.1.5-14
               linux519-nvidia-390xx            390.151-2            390.154-1
               linux519-nvidia-470xx         470.129.06-2         470.141.03-1
                     linux519-nvidia             515.57-2          515.65.01-1
                   linux54-acpi_call             1.2.2-48             1.2.2-49
                    linux54-bbswitch              0.8-222              0.8-223
                 linux54-broadcom-wl     6.30.223.271-223     6.30.223.271-224
                 linux54-ndiswrapper             1.63-178             1.63-179
                linux54-nvidia-390xx           390.151-18            390.154-1
                linux54-nvidia-470xx        470.129.06-18         470.141.03-1
                      linux54-nvidia             515.57-9          515.65.01-1
                    linux54-nvidiabl             0.88-222             0.88-223
                       linux54-r8168           8.050.03-2           8.050.03-3
                   linux54-rtl8723bu          20220114-42          20220114-43
                    linux54-tp_smapi             0.43-222             0.43-223
                 linux54-vhba-module          20211218-44          20211218-45
     linux54-virtualbox-host-modules             6.1.36-4             6.1.36-5
                         linux54-zfs             2.1.5-10             2.1.5-11
                   mhwd-nvidia-390xx            390.151-3            390.154-1
                   mhwd-nvidia-470xx         470.129.06-2         470.141.03-1
                         mhwd-nvidia             515.57-1          515.65.01-1
                   nvidia-390xx-dkms            390.151-3            390.154-1
                  nvidia-390xx-utils            390.151-3            390.154-1
                   nvidia-470xx-dkms         470.129.06-2         470.141.03-1
                  nvidia-470xx-utils         470.129.06-2         470.141.03-1
                         nvidia-dkms             515.57-1          515.65.01-1
                        nvidia-utils             515.57-1          515.65.01-1
                 opencl-nvidia-390xx            390.151-3            390.154-1
                 opencl-nvidia-470xx         470.129.06-2         470.141.03-1
                       opencl-nvidia             515.57-1          515.65.01-1


:: Different sync package(s) in repository extra x86_64

-------------------------------------------------------------------------------
                             PACKAGE           2022-08-03           2022-08-04
-------------------------------------------------------------------------------
                               clang             14.0.6-1             14.0.6-2
                               gnote               42.0-1               42.1-1
                                gvim           9.0.0000-1           9.0.0135-1
                                 ldb            2:2.5.2-1            2:2.5.2-2
                             libupnp            1.14.12-3            1.14.13-1
                                llvm             14.0.6-2             14.0.6-3
                           llvm-libs             14.0.6-2             14.0.6-3
                              mpg123             1.30.1-1             1.30.2-1
                              ostree             2022.5-1             2022.5-2
                    perl-alien-build               2.50-1               2.51-1
                      python-chardet              4.0.0-5              5.0.0-1
                          python-pip             22.2.1-1             22.2.2-1
                     python-requests             2.27.1-1             2.28.1-1
                               samba             4.16.4-1             4.16.4-2
                          sdl2_image              2.6.0-2              2.6.1-1
                           smbclient             4.16.4-1             4.16.4-2
                              tevent           1:0.12.1-1           1:0.13.0-1
                         thunderbird            91.11.0-1            91.12.0-1
                 thunderbird-i18n-af            91.11.0-1            91.12.0-1
                 thunderbird-i18n-ar            91.11.0-1            91.12.0-1
                thunderbird-i18n-ast            91.11.0-1            91.12.0-1
                 thunderbird-i18n-be            91.11.0-1            91.12.0-1
                 thunderbird-i18n-bg            91.11.0-1            91.12.0-1
                 thunderbird-i18n-br            91.11.0-1            91.12.0-1
                 thunderbird-i18n-ca            91.11.0-1            91.12.0-1
                thunderbird-i18n-cak            91.11.0-1            91.12.0-1
                 thunderbird-i18n-cs            91.11.0-1            91.12.0-1
                 thunderbird-i18n-cy            91.11.0-1            91.12.0-1
                 thunderbird-i18n-da            91.11.0-1            91.12.0-1
                 thunderbird-i18n-de            91.11.0-1            91.12.0-1
                thunderbird-i18n-dsb            91.11.0-1            91.12.0-1
                 thunderbird-i18n-el            91.11.0-1            91.12.0-1
              thunderbird-i18n-en-gb            91.11.0-1            91.12.0-1
              thunderbird-i18n-en-us            91.11.0-1            91.12.0-1
              thunderbird-i18n-es-ar            91.11.0-1            91.12.0-1
              thunderbird-i18n-es-es            91.11.0-1            91.12.0-1
                 thunderbird-i18n-et            91.11.0-1            91.12.0-1
                 thunderbird-i18n-eu            91.11.0-1            91.12.0-1
                 thunderbird-i18n-fi            91.11.0-1            91.12.0-1
                 thunderbird-i18n-fr            91.11.0-1            91.12.0-1
              thunderbird-i18n-fy-nl            91.11.0-1            91.12.0-1
              thunderbird-i18n-ga-ie            91.11.0-1            91.12.0-1
                 thunderbird-i18n-gd            91.11.0-1            91.12.0-1
                 thunderbird-i18n-gl            91.11.0-1            91.12.0-1
                 thunderbird-i18n-he            91.11.0-1            91.12.0-1
                 thunderbird-i18n-hr            91.11.0-1            91.12.0-1
                thunderbird-i18n-hsb            91.11.0-1            91.12.0-1
                 thunderbird-i18n-hu            91.11.0-1            91.12.0-1
              thunderbird-i18n-hy-am            91.11.0-1            91.12.0-1
                 thunderbird-i18n-id            91.11.0-1            91.12.0-1
                 thunderbird-i18n-is            91.11.0-1            91.12.0-1
                 thunderbird-i18n-it            91.11.0-1            91.12.0-1
                 thunderbird-i18n-ja            91.11.0-1            91.12.0-1
                 thunderbird-i18n-ka            91.11.0-1            91.12.0-1
                thunderbird-i18n-kab            91.11.0-1            91.12.0-1
                 thunderbird-i18n-kk            91.11.0-1            91.12.0-1
                 thunderbird-i18n-ko            91.11.0-1            91.12.0-1
                 thunderbird-i18n-lt            91.11.0-1            91.12.0-1
                 thunderbird-i18n-ms            91.11.0-1            91.12.0-1
              thunderbird-i18n-nb-no            91.11.0-1            91.12.0-1
                 thunderbird-i18n-nl            91.11.0-1            91.12.0-1
              thunderbird-i18n-nn-no            91.11.0-1            91.12.0-1
              thunderbird-i18n-pa-in            91.11.0-1            91.12.0-1
                 thunderbird-i18n-pl            91.11.0-1            91.12.0-1
              thunderbird-i18n-pt-br            91.11.0-1            91.12.0-1
              thunderbird-i18n-pt-pt            91.11.0-1            91.12.0-1
                 thunderbird-i18n-rm            91.11.0-1            91.12.0-1
                 thunderbird-i18n-ro            91.11.0-1            91.12.0-1
                 thunderbird-i18n-ru            91.11.0-1            91.12.0-1
                 thunderbird-i18n-sk            91.11.0-1            91.12.0-1
                 thunderbird-i18n-sl            91.11.0-1            91.12.0-1
                 thunderbird-i18n-sq            91.11.0-1            91.12.0-1
                 thunderbird-i18n-sr            91.11.0-1            91.12.0-1
              thunderbird-i18n-sv-se            91.11.0-1            91.12.0-1
                 thunderbird-i18n-th            91.11.0-1            91.12.0-1
                 thunderbird-i18n-tr            91.11.0-1            91.12.0-1
                 thunderbird-i18n-uk            91.11.0-1            91.12.0-1
                 thunderbird-i18n-uz            91.11.0-1            91.12.0-1
                 thunderbird-i18n-vi            91.11.0-1            91.12.0-1
              thunderbird-i18n-zh-cn            91.11.0-1            91.12.0-1
              thunderbird-i18n-zh-tw            91.11.0-1            91.12.0-1
                                 vim           9.0.0000-1           9.0.0135-1
                         vim-runtime           9.0.0000-1           9.0.0135-1


:: Different overlay package(s) in repository kde-unstable x86_64

-------------------------------------------------------------------------------
                             PACKAGE           2022-08-03           2022-08-04
-------------------------------------------------------------------------------
                             akonadi22.04.3.r12797.g5e6620486-122.04.3.r12798.g5576b4a9b-1
               akonadi-import-wizard22.04.3.r1841.g7bc967b-122.04.3.r1842.g7922089-1
                      akonadiconsole22.04.3.r1602.gee6df9c-122.04.3.r1603.g1a81412-1
                         audiocd-kio22.04.3.r1101.g059a3f8-122.04.3.r1103.g2cd9d9f-1
                           bluedevil1:5.25.3.r2425.g69532493-11:5.25.4.r2425.g69532493-1
                              breeze5.25.3.r2435.geef93418-15.25.4.r2435.geef93418-1
                         breeze-grub5.25.3.r11.g63136a9-15.25.4.r11.g63136a9-1
                          breeze-gtk5.25.3.r485.gf5c1363-15.25.4.r485.gf5c1363-1
                     calendarsupport22.04.3.r719.g0d93a55-122.04.3.r720.g0d96f02-1
                              cantor22.04.3.r3376.g172fa4fc-122.04.3.r3378.ged55e2c0-1
                         cask-server        r2.ge1c218e-1        r3.ge442424-1
                            discover5.25.3.r8769.g268f98e52-15.25.4.r8770.g0ee32898f-1
                             dolphin22.04.3.r7056.g227ccfdd3-122.04.3.r7057.g86c103e76-1
                             drkonqi5.25.3.r811.gf58645f1-15.25.4.r811.gf58645f1-1
                   kactivitymanagerd5.25.3.r1413.gc562bf6-15.25.4.r1413.gc562bf6-1
                              kalarm22.04.3.r7975.g308aa746-122.04.3.r7979.g7fd7d1e5-1
                              kamera22.04.3.r728.gf685528-122.04.3.r729.g4cd82d0-1
                                kate22.04.3.r19266.ga8b4c0f44-122.04.3.r19267.g672c193c9-1
                             kbackup22.04.3.r449.g7d24781-122.04.3.r450.g5f9106f-1
                       kde-cli-tools5.25.3.r1947.ge85be44-15.25.4.r1948.g819457a-1
                      kde-gtk-config5.25.3.r939.g3c56cb7-15.25.4.r939.g3c56cb7-1
                         kdecoration5.25.3.r295.g5df2f5b-15.25.4.r295.g5df2f5b-1
              kdenetwork-filesharing22.04.3.r964.gc177fc3-122.04.3.r968.g3646da4-1
                            kdenlive22.04.3.r16469.gde8d90464-122.04.3.r16497.gfff370e0b-1
                       kdepim-addons22.04.3.r4733.gc10a61798-122.04.3.r4734.gbe6746a69-1
                    kdeplasma-addons5.25.3.r8970.g10b7a3499-15.25.4.r8970.g10b7a3499-1
                             kgamma55.25.3.r481.g5d1c771-15.25.4.r481.g5d1c771-1
                            khotkeys5.25.3.r2154.gf725bc7-15.25.4.r2154.gf725bc7-1
                         kinfocenter5.25.3.r2129.g59184a24-15.25.4.r2130.g5364405c-1
                                 kio5.96.0.r5619.g09d44b85d-15.96.0.r5620.gd60dcda0e-1
                          kitinerary22.04.3.r2340.g9c83d2e-122.04.3.r2343.g3ab40c7-1
                               kmail22.04.3.r26468.gf9b9539e7-122.04.3.r26474.g385b4157e-1
                           kmenuedit5.25.3.r1058.g372bd9e-15.25.4.r1059.g4ace756-1
                              knotes22.04.3.r3685.g85f97513-122.04.3.r3686.g5fe123ee-1
                             konsole22.04.3.r8562.g036be9ee-122.04.3.r8563.gbcedf80b-1
                          korganizer22.04.3.r11780.gf25a8724e-122.04.3.r11782.gb7797cdb2-1
                           kpipewire5.25.3.r135.g3bc932e-15.25.4.r135.g3bc932e-1
                             kscreen5.25.3.r1510.gaf3a595-15.25.4.r1511.gff4cd54-1
                       kscreenlocker5.25.3.r972.g87f3043-15.25.4.r972.g87f3043-1
                               ksirk22.04.3.r1040.g0f6e3dc-122.04.3.r1041.g667c2e4-1
                         ksshaskpass5.25.3.r212.gd1bef1b-15.25.4.r212.gd1bef1b-1
                           ksysguard5.25.3.r3539.g3c8b00a1-15.25.4.r3539.g3c8b00a1-1
                        ksystemstats5.25.3.r232.g5ae8db9-15.25.4.r232.g5ae8db9-1
                         ktexteditor5.96.0.r3442.g9dd9142e-15.96.0.r3443.g985ea47e-1
                         kwallet-pam5.25.3.r271.g40ad5fe-15.25.4.r271.g40ad5fe-1
                               kwave22.04.3.r3801.gac141b3f-122.04.3.r3802.g43d02ff7-1
                kwayland-integration5.25.3.r212.gef63862-15.25.4.r212.gef63862-1
                     kwayland-server5.25.3.r1480.g7f15f36-15.25.4.r1480.g7f15f36-1
                        kweathercore    0.6.r6.gee49ab6-1    0.6.r8.ge6b2118-1
                                kwin5.25.3.r22859.g8407f8858-15.25.4.r22931.gb6f6e7f15-1
                           kwordquiz22.04.3.r1189.g589682f-122.04.3.r1193.g8ec09c7-1
                              kwrite22.04.3.r19266.ga8b4c0f44-122.04.3.r19267.g672c193c9-1
                             kwrited5.25.3.r514.g2a65ab9-15.25.4.r514.g2a65ab9-1
                      layer-shell-qt5.25.3.r62.g7bd6366-15.25.4.r62.g7bd6366-1
                          libakonadi22.04.3.r12797.g5e6620486-122.04.3.r12798.g5576b4a9b-1
                          libkscreen5.25.3.r1634.g4004b09-15.25.4.r1634.g4004b09-1
                        libksysguard5.25.3.r2425.g9a01468-15.25.4.r2425.g9a01468-1
                            lokalize22.04.3.r1841.g167df143-122.04.3.r1842.gebce661b-1
                          mailcommon22.04.3.r1269.g5f8ee03-122.04.3.r1276.g41f4faf-1
                               milou5.25.3.r780.ga50415d-15.25.4.r780.ga50415d-1
                              okular22.04.3.r9793.gb96902b40-122.04.3.r9796.g63d783912-1
                              oxygen5.25.3.r4500.ga50719e0-15.25.4.r4500.ga50719e0-1
                            palapeli22.04.3.r1294.gf2d5df8-122.04.3.r1295.ga1284bd-1
                    pim-sieve-editor22.04.3.r1645.g766e5fe-122.04.3.r1646.g550a598-1
          plasma-browser-integration5.25.3.r1340.gc81db22f-15.25.4.r1340.gc81db22f-1
                      plasma-desktop5.25.3.r9470.g9d2d47c2c-15.25.4.r9503.gcfb520e3b-1
                        plasma-disks5.25.3.r286.g3f58a5f-15.25.4.r287.g38d3106-1
                     plasma-firewall5.25.3.r644.g2dfb7dd-15.25.4.r645.g66cb96f-1
                  plasma-integration5.25.3.r572.g6ed27d1-15.25.4.r572.g6ed27d1-1
                       plasma-mobile5.25.3.r1926.gaeddd5ab7-15.25.4.r1926.gaeddd5ab7-1
                    plasma-mobile-nm5.25.3.r3307.g117e0add-15.25.4.r3309.g2be2dd88-1
                         plasma-nano5.25.3.r191.g5deb2a5-15.25.4.r191.g5deb2a5-1
                           plasma-nm5.25.3.r3307.g117e0add-15.25.4.r3309.g2be2dd88-1
                           plasma-pa5.25.3.r1065.ge9732de-15.25.4.r1065.ge9732de-1
                    plasma-phonebook  22.06.r8.g6a98656-1 22.06.r10.g91aad88-1
                          plasma-sdk5.25.3.r2382.g720c0865-15.25.4.r2383.g92be00a4-1
                     plasma-settings 22.06.r50.gb333236-1 22.06.r51.gf80c55a-2
                plasma-systemmonitor5.25.3.r603.g5ce820d-15.25.4.r604.g22c9b55-1
                  plasma-thunderbolt5.25.3.r193.g8369978-15.25.4.r194.gfa11777-1
                        plasma-vault5.25.3.r388.gf2f7183-15.25.4.r388.gf2f7183-1
              plasma-wayland-session5.25.3.r12160.g147ba09f7-15.25.4.r12161.gb7e4da6b1-1
                    plasma-workspace5.25.3.r12160.g147ba09f7-15.25.4.r12161.gb7e4da6b1-1
         plasma-workspace-wallpapers5.25.3.r369.gd788478-15.25.4.r369.gd788478-1
                    polkit-kde-agent5.25.3.r531.ge482883-15.25.4.r531.ge482883-1
                          powerdevil5.25.3.r2575.g53ff4a3b-15.25.4.r2575.g53ff4a3b-1
                   qqc2-breeze-style5.25.3.r249.g36ec4ea-15.25.4.r249.g36ec4ea-1
                            sddm-kcm5.25.3.r673.g70e0760-15.25.4.r673.g70e0760-1
                             sweeper22.04.3.r579.g28430e5-122.04.3.r582.g73a0b5d-1
                 syntax-highlighting5.96.0.r1870.g21f254ca-15.96.0.r1883.g25639c63-1
                      systemsettings5.25.3.r2699.g46fb188f-15.25.4.r2699.g46fb188f-1
                        threadweaver5.96.0.r546.g167d409-15.96.0.r547.g8187da6-1
                             tokodon 22.06.r22.gb0cb919-1 22.06.r25.gaf55861-1
                         vakzination 22.06.r23.g4a4b794-1 22.06.r24.g950f134-1
              xdg-desktop-portal-kde5.25.3.r512.g57f17b2-15.25.4.r512.g57f17b2-1


:: Different overlay package(s) in repository multilib x86_64

-------------------------------------------------------------------------------
                             PACKAGE           2022-08-03           2022-08-04
-------------------------------------------------------------------------------
            lib32-nvidia-390xx-utils            390.151-1            390.154-1
            lib32-nvidia-470xx-utils         470.129.06-1         470.141.03-1
                  lib32-nvidia-utils             515.57-1          515.65.01-1
           lib32-opencl-nvidia-390xx            390.151-1            390.154-1
           lib32-opencl-nvidia-470xx         470.129.06-1         470.141.03-1
                 lib32-opencl-nvidia             515.57-1          515.65.01-1


:: Different sync package(s) in repository multilib x86_64

-------------------------------------------------------------------------------
                             PACKAGE           2022-08-03           2022-08-04
-------------------------------------------------------------------------------
                        lib32-mpg123             1.30.1-1             1.30.2-1


Check if your mirror has already synced:
4 posts - 3 participants
➠ Komplette Nachricht lesen
Zur Startseite
➤ Ähnliche Beiträge für '[Testing Update] 2022-08-04 - Kernels, Nvidia, Thunderbird, Cinnamon, KDE-git'
Team Security Diskussion über [Testing Update] 2022-08-04 - Kernels, Nvidia, Thunderbird, Cinnamon, KDE-git