➠ [Testing Update] 2022-09-26 - Firefox, 0 AD a26, Gradience, Linux Firmware, Wine Staging
Hello community,
Another testing branch update with some usual package updates for you.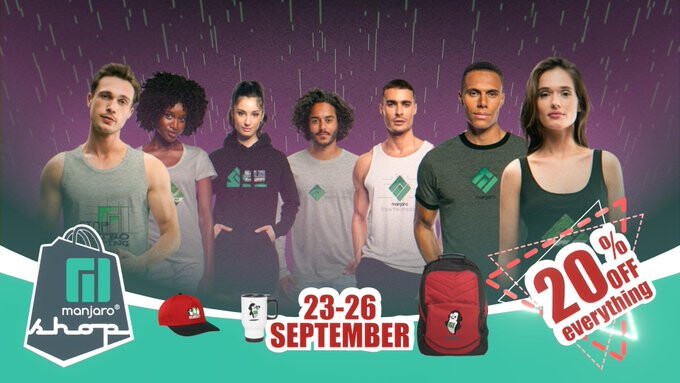 Don't miss out on 20% discount this weekend on all of our Merch! manjaro.myspreadshop.net
Firefox is now at 105.0.1
0 AD got its 26th Alpha released
We added gradience to change the look of Adwaita, with ease
monthly Linux Firmware update got added
Wine Staging is now also at 7.18
Some KDE-git updates as usual
Additional Info
Info about AUR packages
(click for more details)
Get our latest daily developer images now from Github: Plasma, GNOME, XFCE. You can get the latest stable releases of Manjaro from CDN77.
---
Our current supported kernels
linux419 4.19.259
linux54 5.4.214
linux510 5.10.145
linux515 5.15.70
linux518 5.18.19 [EOL]
linux519 5.19.11
linux60 6.0.0rc6
linux515-rt 5.15.55_rt48
linux519-rt 5.19.0_rt10
Package changes (Mon Sep 26 08:39:51 CEST 2022)
testing community x86_64: 220 new and 214 removed package(s)
testing core x86_64: 13 new and 13 removed package(s)
testing extra x86_64: 141 new and 141 removed package(s)
testing kde-unstable x86_64: 108 new and 108 removed package(s)
testing multilib x86_64: 3 new and 3 removed package(s)


-------------------------------------------------------------------------------
                             PACKAGE           2022-09-24           2022-09-25
-------------------------------------------------------------------------------
  gnome-shell-extension-dash-to-dock                 73-1                 74-1
 gnome-shell-extension-gnome-ui-tune              1.6.3-1              1.7.1-1
                           gradience                    -              0.3.0-2
                     python-anyascii                    -              0.3.1-2
                     python-cssutils                    -              2.6.0-1
     python-material-color-utilities                    -              0.1.5-2


:: Different sync package(s) in repository community x86_64

-------------------------------------------------------------------------------
                             PACKAGE           2022-09-24           2022-09-25
-------------------------------------------------------------------------------
                                 0ad             a25.b-10                a26-1
                            0ad-data              a25.b-1                a26-1
                       android-tools             31.0.3-7             33.0.3-1
                        android-udev           20220611-1           20220903-1
                             arch-hs          0.10.2.0-59          0.10.2.0-60
                               atril             1.26.0-1             1.26.0-2
                             aws-cli            1.25.71-1            1.25.81-1
                               broot             1.14.3-1             1.15.0-1
                      cargo-binstall             0.13.1-1             0.13.3-1
                          cargo-edit             0.11.1-1             0.11.2-1
                           clash-ghc             1.6.3-31              1.6.4-1
                     consul-template             0.29.1-1             0.29.2-1
                                  ct              0.9.3-1              0.9.4-1
                           dart-sass             1.54.9-1             1.55.0-1
                          dhall-bash           1.0.40-102           1.0.40-103
                                 din                 54-1                 55-1
                               drone             2.12.1-1             2.13.0-1
                           drone-oss             2.12.1-1             2.13.0-1
           firefox-developer-edition            106.0b3-1            106.0b4-1
  firefox-developer-edition-i18n-ach            106.0b3-1            106.0b4-1
   firefox-developer-edition-i18n-af            106.0b3-1            106.0b4-1
   firefox-developer-edition-i18n-an            106.0b3-1            106.0b4-1
   firefox-developer-edition-i18n-ar            106.0b3-1            106.0b4-1
  firefox-developer-edition-i18n-ast            106.0b3-1            106.0b4-1
   firefox-developer-edition-i18n-az            106.0b3-1            106.0b4-1
   firefox-developer-edition-i18n-be            106.0b3-1            106.0b4-1
   firefox-developer-edition-i18n-bg            106.0b3-1            106.0b4-1
   firefox-developer-edition-i18n-bn            106.0b3-1            106.0b4-1
   firefox-developer-edition-i18n-br            106.0b3-1            106.0b4-1
   firefox-developer-edition-i18n-bs            106.0b3-1            106.0b4-1
   firefox-developer-edition-i18n-ca            106.0b3-1            106.0b4-1
firefox-developer-edition-i18n-ca-valencia      106.0b3-1            106.0b4-1
  firefox-developer-edition-i18n-cak            106.0b3-1            106.0b4-1
   firefox-developer-edition-i18n-cs            106.0b3-1            106.0b4-1
   firefox-developer-edition-i18n-cy            106.0b3-1            106.0b4-1
   firefox-developer-edition-i18n-da            106.0b3-1            106.0b4-1
   firefox-developer-edition-i18n-de            106.0b3-1            106.0b4-1
  firefox-developer-edition-i18n-dsb            106.0b3-1            106.0b4-1
   firefox-developer-edition-i18n-el            106.0b3-1            106.0b4-1
firefox-developer-edition-i18n-en-ca            106.0b3-1            106.0b4-1
firefox-developer-edition-i18n-en-gb            106.0b3-1            106.0b4-1
firefox-developer-edition-i18n-en-us            106.0b3-1            106.0b4-1
   firefox-developer-edition-i18n-eo            106.0b3-1            106.0b4-1
firefox-developer-edition-i18n-es-ar            106.0b3-1            106.0b4-1
firefox-developer-edition-i18n-es-cl            106.0b3-1            106.0b4-1
firefox-developer-edition-i18n-es-es            106.0b3-1            106.0b4-1
firefox-developer-edition-i18n-es-mx            106.0b3-1            106.0b4-1
   firefox-developer-edition-i18n-et            106.0b3-1            106.0b4-1
   firefox-developer-edition-i18n-eu            106.0b3-1            106.0b4-1
   firefox-developer-edition-i18n-fa            106.0b3-1            106.0b4-1
   firefox-developer-edition-i18n-ff            106.0b3-1            106.0b4-1
   firefox-developer-edition-i18n-fi            106.0b3-1            106.0b4-1
   firefox-developer-edition-i18n-fr            106.0b3-1            106.0b4-1
firefox-developer-edition-i18n-fy-nl            106.0b3-1            106.0b4-1
firefox-developer-edition-i18n-ga-ie            106.0b3-1            106.0b4-1
   firefox-developer-edition-i18n-gd            106.0b3-1            106.0b4-1
   firefox-developer-edition-i18n-gl            106.0b3-1            106.0b4-1
   firefox-developer-edition-i18n-gn            106.0b3-1            106.0b4-1
firefox-developer-edition-i18n-gu-in            106.0b3-1            106.0b4-1
   firefox-developer-edition-i18n-he            106.0b3-1            106.0b4-1
firefox-developer-edition-i18n-hi-in            106.0b3-1            106.0b4-1
   firefox-developer-edition-i18n-hr            106.0b3-1            106.0b4-1
  firefox-developer-edition-i18n-hsb            106.0b3-1            106.0b4-1
   firefox-developer-edition-i18n-hu            106.0b3-1            106.0b4-1
firefox-developer-edition-i18n-hy-am            106.0b3-1            106.0b4-1
   firefox-developer-edition-i18n-ia            106.0b3-1            106.0b4-1
   firefox-developer-edition-i18n-id            106.0b3-1            106.0b4-1
   firefox-developer-edition-i18n-is            106.0b3-1            106.0b4-1
   firefox-developer-edition-i18n-it            106.0b3-1            106.0b4-1
   firefox-developer-edition-i18n-ja            106.0b3-1            106.0b4-1
   firefox-developer-edition-i18n-ka            106.0b3-1            106.0b4-1
  firefox-developer-edition-i18n-kab            106.0b3-1            106.0b4-1
   firefox-developer-edition-i18n-kk            106.0b3-1            106.0b4-1
   firefox-developer-edition-i18n-km            106.0b3-1            106.0b4-1
   firefox-developer-edition-i18n-kn            106.0b3-1            106.0b4-1
   firefox-developer-edition-i18n-ko            106.0b3-1            106.0b4-1
  firefox-developer-edition-i18n-lij            106.0b3-1            106.0b4-1
   firefox-developer-edition-i18n-lt            106.0b3-1            106.0b4-1
   firefox-developer-edition-i18n-lv            106.0b3-1            106.0b4-1
   firefox-developer-edition-i18n-mk            106.0b3-1            106.0b4-1
   firefox-developer-edition-i18n-mr            106.0b3-1            106.0b4-1
   firefox-developer-edition-i18n-ms            106.0b3-1            106.0b4-1
   firefox-developer-edition-i18n-my            106.0b3-1            106.0b4-1
firefox-developer-edition-i18n-nb-no            106.0b3-1            106.0b4-1
firefox-developer-edition-i18n-ne-np            106.0b3-1            106.0b4-1
   firefox-developer-edition-i18n-nl            106.0b3-1            106.0b4-1
firefox-developer-edition-i18n-nn-no            106.0b3-1            106.0b4-1
   firefox-developer-edition-i18n-oc            106.0b3-1            106.0b4-1
firefox-developer-edition-i18n-pa-in            106.0b3-1            106.0b4-1
   firefox-developer-edition-i18n-pl            106.0b3-1            106.0b4-1
firefox-developer-edition-i18n-pt-br            106.0b3-1            106.0b4-1
firefox-developer-edition-i18n-pt-pt            106.0b3-1            106.0b4-1
   firefox-developer-edition-i18n-rm            106.0b3-1            106.0b4-1
   firefox-developer-edition-i18n-ro            106.0b3-1            106.0b4-1
   firefox-developer-edition-i18n-ru            106.0b3-1            106.0b4-1
   firefox-developer-edition-i18n-si            106.0b3-1            106.0b4-1
   firefox-developer-edition-i18n-sk            106.0b3-1            106.0b4-1
   firefox-developer-edition-i18n-sl            106.0b3-1            106.0b4-1
  firefox-developer-edition-i18n-son            106.0b3-1            106.0b4-1
   firefox-developer-edition-i18n-sq            106.0b3-1            106.0b4-1
   firefox-developer-edition-i18n-sr            106.0b3-1            106.0b4-1
firefox-developer-edition-i18n-sv-se            106.0b3-1            106.0b4-1
   firefox-developer-edition-i18n-ta            106.0b3-1            106.0b4-1
   firefox-developer-edition-i18n-te            106.0b3-1            106.0b4-1
   firefox-developer-edition-i18n-th            106.0b3-1            106.0b4-1
   firefox-developer-edition-i18n-tl            106.0b3-1            106.0b4-1
   firefox-developer-edition-i18n-tr            106.0b3-1            106.0b4-1
  firefox-developer-edition-i18n-trs            106.0b3-1            106.0b4-1
   firefox-developer-edition-i18n-uk            106.0b3-1            106.0b4-1
   firefox-developer-edition-i18n-ur            106.0b3-1            106.0b4-1
   firefox-developer-edition-i18n-uz            106.0b3-1            106.0b4-1
   firefox-developer-edition-i18n-vi            106.0b3-1            106.0b4-1
   firefox-developer-edition-i18n-xh            106.0b3-1            106.0b4-1
firefox-developer-edition-i18n-zh-cn            106.0b3-1            106.0b4-1
firefox-developer-edition-i18n-zh-tw            106.0b3-1            106.0b4-1
                           git-cliff              0.9.1-1              0.9.2-1
                          github-cli             2.15.0-1             2.16.0-1
                     gloobus-preview          0.4.5.336-3          0.4.5.336-4
                              gopass             1.14.6-1             1.14.7-1
                      grafana-zabbix              4.2.9-1             4.2.10-1
                             haproxy              2.6.5-2              2.6.6-1
               haskell-binary-parser           0.5.7.2-38           0.5.7.2-39
                     haskell-butcher          1.3.3.2-243          1.3.3.2-244
   haskell-bytestring-strict-builder           0.4.5.6-24           0.4.5.6-25
                   haskell-clash-lib             1.6.3-31              1.6.4-1
               haskell-clash-prelude             1.6.3-29              1.6.4-1
              haskell-deferred-folds          0.9.18.2-27          0.9.18.2-28
                       haskell-deque            0.4.4-106            0.4.4-107
                       haskell-hasql           1.5.0.3-29           1.5.0.3-30
    haskell-hasql-dynamic-statements            0.3.1-176            0.3.1-177
             haskell-hasql-implicits           0.1.0.5-14           0.1.0.5-15
         haskell-hasql-notifications           0.2.0.2-10           0.2.0.2-11
                  haskell-hasql-pool           0.5.2.2-96           0.5.2.2-97
           haskell-hasql-transaction          1.0.1.1-115          1.0.1.1-116
           haskell-isomorphism-class            0.1.0.7-2            0.1.0.7-3
          haskell-neat-interpolation           0.5.1.3-86           0.5.1.3-87
           haskell-postgresql-binary         0.12.4.1-143         0.12.4.1-144
                         haskell-ptr          0.16.8.3-19          0.16.8.3-20
                      haskell-rebase           1.16.0.1-2             1.16.1-1
                    haskell-rerebase           1.16.0.1-2             1.16.1-1
                 haskell-strict-list             0.1.7-45             0.1.7-46
                    haskell-summoner          2.0.1.1-361          2.0.1.1-362
                haskell-summoner-tui          2.0.1.1-409          2.0.1.1-410
                haskell-text-builder             0.6.7-20             0.6.7-21
            haskell-text-builder-dev             0.3.3-11             0.3.3-12
              haskell-vector-builder           0.3.8.4-29           0.3.8.4-30
                               i3-wm               4.21-1               4.21-2
                                 k9s             0.26.3-1             0.26.5-1
                           kdiskmark              2.3.0-2              3.1.2-1
                      knative-client              1.4.0-1              1.7.0-1
                         kubeconform             0.4.13-2             0.4.14-2
                            kubeseal             0.18.1-1             0.18.5-1
                       libtraceevent            1:1.6.2-1            1:1.6.3-1
                  libtraceevent-docs            1:1.6.2-1            1:1.6.3-1
                          libtracefs              1.4.2-1              1.5.0-1
                     libtracefs-docs              1.4.2-1              1.5.0-1
                                 lxd                5.5-2                5.6-1
                              marked             4.0.17-1             4.0.19-1
                               mimir              2.2.0-1              2.3.0-1
                            minikube             1.26.1-1             1.27.0-1
               netfilter-fullconenat      r73.0cf3b48-238      r73.0cf3b48-239
                            newsboat               2.28-1               2.29-1
             nextcloud-app-bookmarks           1:11.0.1-1           1:11.0.3-1
              nextcloud-app-contacts              4.2.0-1              4.2.1-1
                   npm-check-updates             16.3.1-1             16.3.2-1
                                nrpe              4.0.3-3              4.1.0-1
                                 oil             0.12.5-1             0.12.6-1
                   openapi-generator              6.1.0-1              6.2.0-1
                         pdfarranger              1.9.0-2              1.9.1-1
                      perl-path-tiny              0.122-2              0.124-1
                            plantuml           1.2022.6-1           1.2022.7-1
                           postgrest             9.0.1-51             9.0.1-52
                              pulumi             3.39.3-1             3.40.1-1
               python-ansible-compat              2.2.0-1              2.2.1-1
                      python-bincopy            17.10.3-1            17.14.0-1
                        python-boto3            1.24.70-1            1.24.80-1
                     python-botocore            1.27.70-1            1.27.80-1
                      python-certifi         2022.09.14-1         2022.09.24-1
                   python-diff-cover              6.5.1-1              7.0.1-1
                       python-dnslib             0.9.20-1             0.9.21-1
                    python-executing              1.0.0-1              1.1.0-1
                        python-faker              9.3.1-1              9.4.0-1
               python-fastjsonschema             2.16.1-1             2.16.2-1
                      python-libtmux             0.15.3-1             0.15.4-1
                 python-phonenumbers            8.12.55-1            8.12.56-1
                      python-psycopg              3.1.1-1              3.1.2-1
       python-pytest-shell-utilities              1.6.0-1              1.7.0-1
                     python-redbaron              0.9.2-6              0.9.2-7
          python-setuptools-markdown              0.4.1-7              0.4.1-8
                       python-sphinx              5.1.1-2              5.2.1-1
                        python-spsdk              1.7.0-1              1.7.1-1
                       python-stestr              4.0.0-1              4.0.1-1
                     python-watchdog              2.0.0-1              2.0.1-1
                               rekor             0.12.0-1             0.12.1-1
                             rocksdb              7.5.3-1              7.6.0-1
                               rtirq           20210329-1           20220923-1
                                salt             3004.2-1               3005-1
                             shotcut           22.06.23-1           22.09.23-1
                         spire-agent              1.4.0-1              1.4.2-1
                        spire-server              1.4.0-1              1.4.2-1
                               stack            2.7.5-163            2.7.5-164
                           terraform              1.2.9-1              1.3.0-1
                          terragrunt             0.38.9-1            0.38.12-1
                               tmuxp             1.14.0-1             1.15.2-1
                             traefik              2.8.4-1              2.8.7-1
                             unbound             1.16.2-1             1.16.3-1
         v2ray-domain-list-community     20220923145559-1     20220924145006-1
                               wails              2.0.0-1              2.0.0-2
                         x42-plugins           20220914-1           20220923-1
                             xfsdump             3.1.10-2             3.1.11-1
                             xreader              3.4.5-1              3.4.5-2
                         xsecurelock              1.7.0-2              1.8.0-1
                  mod-lv2-extensions                    -         2022.09.25-1
                 python-pytoolconfig                    -              1.2.2-3


:: Different overlay package(s) in repository core x86_64

-------------------------------------------------------------------------------
                             PACKAGE           2022-09-24           2022-09-25
-------------------------------------------------------------------------------
                           amd-ucode   20220815.8413c63-1   20220913.f09bebf-1
                      linux-firmware   20220815.8413c63-1   20220913.f09bebf-1
                linux-firmware-bnx2x   20220815.8413c63-1   20220913.f09bebf-1
             linux-firmware-liquidio   20220815.8413c63-1   20220913.f09bebf-1
              linux-firmware-marvell   20220815.8413c63-1   20220913.f09bebf-1
             linux-firmware-mellanox   20220815.8413c63-1   20220913.f09bebf-1
                  linux-firmware-nfp   20220815.8413c63-1   20220913.f09bebf-1
                 linux-firmware-qcom   20220815.8413c63-1   20220913.f09bebf-1
               linux-firmware-qlogic   20220815.8413c63-1   20220913.f09bebf-1
               linux-firmware-whence   20220815.8413c63-1   20220913.f09bebf-1
                              pacman             6.0.1-14             6.0.1-15


:: Different sync package(s) in repository core x86_64

-------------------------------------------------------------------------------
                             PACKAGE           2022-09-24           2022-09-25
-------------------------------------------------------------------------------
                          libnghttp2             1.49.0-1             1.50.0-1
                              tzdata              2022c-1              2022d-1


:: Different sync package(s) in repository extra x86_64

-------------------------------------------------------------------------------
                             PACKAGE           2022-09-24           2022-09-25
-------------------------------------------------------------------------------
                                 aom              3.4.0-1              3.5.0-1
                            aom-docs              3.4.0-1              3.5.0-1
                              evince               42.3-1               42.3-2
                     evince-lib-docs               42.3-1               42.3-2
                           evolution             3.44.4-1             3.44.4-2
                evolution-bogofilter             3.44.4-1             3.44.4-2
              evolution-spamassassin             3.44.4-1             3.44.4-2
                             firefox              105.0-2            105.0.1-1
                    firefox-i18n-ach              105.0-1            105.0.1-1
                     firefox-i18n-af              105.0-1            105.0.1-1
                     firefox-i18n-an              105.0-1            105.0.1-1
                     firefox-i18n-ar              105.0-1            105.0.1-1
                    firefox-i18n-ast              105.0-1            105.0.1-1
                     firefox-i18n-az              105.0-1            105.0.1-1
                     firefox-i18n-be              105.0-1            105.0.1-1
                     firefox-i18n-bg              105.0-1            105.0.1-1
                     firefox-i18n-bn              105.0-1            105.0.1-1
                     firefox-i18n-br              105.0-1            105.0.1-1
                     firefox-i18n-bs              105.0-1            105.0.1-1
                     firefox-i18n-ca              105.0-1            105.0.1-1
            firefox-i18n-ca-valencia              105.0-1            105.0.1-1
                    firefox-i18n-cak              105.0-1            105.0.1-1
                     firefox-i18n-cs              105.0-1            105.0.1-1
                     firefox-i18n-cy              105.0-1            105.0.1-1
                     firefox-i18n-da              105.0-1            105.0.1-1
                     firefox-i18n-de              105.0-1            105.0.1-1
                    firefox-i18n-dsb              105.0-1            105.0.1-1
                     firefox-i18n-el              105.0-1            105.0.1-1
                  firefox-i18n-en-ca              105.0-1            105.0.1-1
                  firefox-i18n-en-gb              105.0-1            105.0.1-1
                  firefox-i18n-en-us              105.0-1            105.0.1-1
                     firefox-i18n-eo              105.0-1            105.0.1-1
                  firefox-i18n-es-ar              105.0-1            105.0.1-1
                  firefox-i18n-es-cl              105.0-1            105.0.1-1
                  firefox-i18n-es-es              105.0-1            105.0.1-1
                  firefox-i18n-es-mx              105.0-1            105.0.1-1
                     firefox-i18n-et              105.0-1            105.0.1-1
                     firefox-i18n-eu              105.0-1            105.0.1-1
                     firefox-i18n-fa              105.0-1            105.0.1-1
                     firefox-i18n-ff              105.0-1            105.0.1-1
                     firefox-i18n-fi              105.0-1            105.0.1-1
                     firefox-i18n-fr              105.0-1            105.0.1-1
                  firefox-i18n-fy-nl              105.0-1            105.0.1-1
                  firefox-i18n-ga-ie              105.0-1            105.0.1-1
                     firefox-i18n-gd              105.0-1            105.0.1-1
                     firefox-i18n-gl              105.0-1            105.0.1-1
                     firefox-i18n-gn              105.0-1            105.0.1-1
                  firefox-i18n-gu-in              105.0-1            105.0.1-1
                     firefox-i18n-he              105.0-1            105.0.1-1
                  firefox-i18n-hi-in              105.0-1            105.0.1-1
                     firefox-i18n-hr              105.0-1            105.0.1-1
                    firefox-i18n-hsb              105.0-1            105.0.1-1
                     firefox-i18n-hu              105.0-1            105.0.1-1
                  firefox-i18n-hy-am              105.0-1            105.0.1-1
                     firefox-i18n-ia              105.0-1            105.0.1-1
                     firefox-i18n-id              105.0-1            105.0.1-1
                     firefox-i18n-is              105.0-1            105.0.1-1
                     firefox-i18n-it              105.0-1            105.0.1-1
                     firefox-i18n-ja              105.0-1            105.0.1-1
                     firefox-i18n-ka              105.0-1            105.0.1-1
                    firefox-i18n-kab              105.0-1            105.0.1-1
                     firefox-i18n-kk              105.0-1            105.0.1-1
                     firefox-i18n-km              105.0-1            105.0.1-1
                     firefox-i18n-kn              105.0-1            105.0.1-1
                     firefox-i18n-ko              105.0-1            105.0.1-1
                    firefox-i18n-lij              105.0-1            105.0.1-1
                     firefox-i18n-lt              105.0-1            105.0.1-1
                     firefox-i18n-lv              105.0-1            105.0.1-1
                     firefox-i18n-mk              105.0-1            105.0.1-1
                     firefox-i18n-mr              105.0-1            105.0.1-1
                     firefox-i18n-ms              105.0-1            105.0.1-1
                     firefox-i18n-my              105.0-1            105.0.1-1
                  firefox-i18n-nb-no              105.0-1            105.0.1-1
                  firefox-i18n-ne-np              105.0-1            105.0.1-1
                     firefox-i18n-nl              105.0-1            105.0.1-1
                  firefox-i18n-nn-no              105.0-1            105.0.1-1
                     firefox-i18n-oc              105.0-1            105.0.1-1
                  firefox-i18n-pa-in              105.0-1            105.0.1-1
                     firefox-i18n-pl              105.0-1            105.0.1-1
                  firefox-i18n-pt-br              105.0-1            105.0.1-1
                  firefox-i18n-pt-pt              105.0-1            105.0.1-1
                     firefox-i18n-rm              105.0-1            105.0.1-1
                     firefox-i18n-ro              105.0-1            105.0.1-1
                     firefox-i18n-ru              105.0-1            105.0.1-1
                    firefox-i18n-sco              105.0-1            105.0.1-1
                     firefox-i18n-si              105.0-1            105.0.1-1
                     firefox-i18n-sk              105.0-1            105.0.1-1
                     firefox-i18n-sl              105.0-1            105.0.1-1
                    firefox-i18n-son              105.0-1            105.0.1-1
                     firefox-i18n-sq              105.0-1            105.0.1-1
                     firefox-i18n-sr              105.0-1            105.0.1-1
                  firefox-i18n-sv-se              105.0-1            105.0.1-1
                    firefox-i18n-szl              105.0-1            105.0.1-1
                     firefox-i18n-ta              105.0-1            105.0.1-1
                     firefox-i18n-te              105.0-1            105.0.1-1
                     firefox-i18n-th              105.0-1            105.0.1-1
                     firefox-i18n-tl              105.0-1            105.0.1-1
                     firefox-i18n-tr              105.0-1            105.0.1-1
                    firefox-i18n-trs              105.0-1            105.0.1-1
                     firefox-i18n-uk              105.0-1            105.0.1-1
                     firefox-i18n-ur              105.0-1            105.0.1-1
                     firefox-i18n-uz              105.0-1            105.0.1-1
                     firefox-i18n-vi              105.0-1            105.0.1-1
                     firefox-i18n-xh              105.0-1            105.0.1-1
                  firefox-i18n-zh-cn              105.0-1            105.0.1-1
                  firefox-i18n-zh-tw              105.0-1            105.0.1-1
                            ghostpcl             9.56.1-1             10.0.0-1
                         ghostscript             9.56.1-1             10.0.0-1
                            ghostxps             9.56.1-1             10.0.0-1
                                gimp            2.10.32-1            2.10.32-2
                              glibmm             2.66.4-1             2.66.5-1
                         glibmm-2.68             2.72.1-1             2.74.0-1
                    glibmm-2.68-docs             2.72.1-1             2.74.0-1
                         glibmm-docs             2.66.4-1             2.66.5-1
               gobject-introspection             1.72.0-1             1.74.0-1
       gobject-introspection-runtime             1.72.0-1             1.74.0-1
                            graphviz              5.0.1-1              5.0.1-2
                      gtksourceview5              5.4.2-1              5.6.1-1
                 gtksourceview5-docs              5.4.2-1              5.6.1-1
                         imagemagick           7.1.0.48-2           7.1.0.49-1
                     imagemagick-doc           7.1.0.48-2           7.1.0.49-1
                     lib32-rust-libs           1:1.63.0-1           1:1.64.0-1
                            libfido2             1.11.0-1             1.12.0-1
                              libgee             0.20.5-2             0.20.6-1
                             libgxps              0.3.2-1              0.3.2-2
                          libopenmpt              0.6.5-2              0.6.6-2
                          libspectre             0.2.10-1             0.2.10-2
                            libwnck3               40.1-1               43.0-1
          perl-net-dns-resolver-mock         1.20200215-5         1.20220817-1
                         python-mako              1.2.2-1              1.2.3-1
                                rust           1:1.63.0-1           1:1.64.0-1
                           rust-musl           1:1.63.0-1           1:1.64.0-1
                            rust-src           1:1.63.0-1           1:1.64.0-1
                           rust-wasm           1:1.63.0-1           1:1.64.0-1
                        sof-firmware              2.2.1-1              2.2.2-1
                           sof-tools              2.2.1-1              2.2.2-1
                tracker-miners 1:2.3.5+r3+gd9d61d87f-2 1:2.3.5+r3+gd9d61d87f-3
                            tracker3              3.3.3-1              3.4.0-1
                       tracker3-docs              3.3.3-1              3.4.0-1
                     tracker3-miners              3.3.1-2              3.4.0-2
                       xorg-xkbprint              1.0.5-1              1.0.5-2


:: Different overlay package(s) in repository kde-unstable x86_64

-------------------------------------------------------------------------------
                             PACKAGE           2022-09-24           2022-09-25
-------------------------------------------------------------------------------
                      akonadiconsole22.08.1.r1621.g627ef5b-122.08.1.r1622.gd61279f-1
                           akregator22.08.1.r6467.g269a82b3-122.08.1.r6469.geb5b0792-1
                           alligator 22.06.r53.g3533c4b-1 22.06.r55.gfd54bbd-1
                           angelfish 22.06.r60.g516a931-1 22.06.r62.gb136825-1
                                 ark22.08.1.r4843.g3e2f5298-122.08.1.r4844.g68e3d95b-1
                         audiocd-kio22.08.1.r1108.gde52745-122.08.1.r1110.g6f34356-1
                        aura-browser        r85.ad7280d-1        r88.87af7f6-1
                             blinken22.08.1.r684.g7ce780d-122.08.1.r685.gf7cdbef-1
                              breeze5.25.5.r2459.g1548737f-15.25.5.r2464.g125e36ff-1
                        breeze-icons5.98.0.r1919.ge88c5b7b-15.98.0.r1920.gcbf7f375-1
                     calendarsupport22.08.1.r729.g3cdcfff-122.08.1.r731.ga65decc-1
                           calindori 22.06.r20.gcc4435e-1 22.06.r21.g5d901d9-1
                             dolphin22.08.1.r7090.g6c65d06bc-122.08.1.r7092.gc9271bf5b-1
                               elisa22.08.1.r3037.g32f5640b-122.08.1.r3038.g0588e7b7-1
                          elisa-qtmm22.08.1.r3037.g32f5640b-122.08.1.r3038.g0588e7b7-1
                          eventviews22.08.1.r878.g3175478-122.08.1.r879.g1d17fab-1
                     incidenceeditor22.08.1.r929.g5936c21-122.08.1.r931.g2358aa2-1
                            index-fm  2.2.0.r3.g08b7662-1  2.2.0.r4.g67e61ac-1
                                 k3b1:22.08.1.r6820.g06791702e-11:22.08.1.r6823.g4e56f8909-1
               kaccounts-integration22.08.1.r1286.ged86f13-122.08.1.r1287.g00e49fc-1
                   kactivities-stats5.98.0.r419.g6d112a4-15.98.0.r420.g4694833-1
                        kaddressbook22.08.1.r6242.g27b84992-122.08.1.r6243.g50ef406e-1
                              kalarm22.08.1.r8004.gd6c9eea4-122.08.1.r8005.gf1b3d8c7-1
                            kalgebra22.08.1.r2080.g4b39929-122.08.1.r2081.ga37dc18-1
                              kapman22.08.1.r669.g6d4383e-122.08.1.r670.g201ccba-1
                                kate22.08.1.r19586.g20c8b60ea-122.08.1.r19593.g6daa2d968-1
                             katomic22.08.1.r976.g51140f8-122.08.1.r977.gd4e0654-1
                               kcalc22.08.1.r1633.g0a89eec-122.08.1.r1635.g55fa699-1
                       kcalendarcore5.98.0.r1347.g3febe4523-15.98.0.r1348.gaf6a43f79-1
                           kcalutils22.08.1.r985.g73a2337f5-122.08.1.r986.g31a671fed-1
                              kclock 22.06.r44.gf9de383-1 22.06.r45.gb44ddba-1
                           kcontacts1:5.98.0.r3349.ga80a7142-11:5.98.0.r3350.g1d757eba-1
                     kde-dev-scripts22.08.1.r4158.gd1575f5-122.08.1.r4160.g17634bd-1
                      kdebugsettings22.08.1.r967.ge3488f0-122.08.1.r968.ged282d1-1
                          kdeconnect22.08.1.r3542.gdbf8b07c-122.08.1.r3543.gae0815ea-1
              kdenetwork-filesharing22.08.1.r985.g34f8836-122.08.1.r986.gd919ec9-1
                       kdepim-addons22.08.1.r4849.g01efbdf34-122.08.1.r4851.g8be4c5d14-1
                      kdepim-runtime22.08.1.r15600.g57a31df55-122.08.1.r15601.g69d9b7267-1
                    kdeplasma-addons5.25.5.r9039.g4353fcb11-15.25.5.r9043.g91c86c213-1
                                 kdf22.08.1.r876.gd8e3425-122.08.1.r877.g5302240-1
                       kfilemetadata5.98.0.r876.gca96468-15.98.0.r878.g076fde9-1
                           kholidays1:5.98.0.r1060.g6f1fe68-11:5.98.0.r1061.g2ddf774-1
                 kidentitymanagement22.08.1.r3903.ga0406ad1-122.08.1.r3905.ga2b6587b-1
                       kimageformats5.98.0.r435.g2f27dff-15.98.0.r436.ga8a477a-1
                         kinfocenter5.25.5.r2158.gb05c2fd6-15.25.5.r2160.ga8b8b300-1
                                 kio5.98.0.r5706.g0b5eb5566-15.98.0.r5708.g2abe1c559-1
                          kio-gdrive22.08.1.r641.g7278f5f-122.08.1.r644.g6c8de22-1
                     kirigami-addons 1:0.3.r16.gbd37cc5-1 1:0.3.r18.gdd44157-1
                           kirigami25.98.0.r3347.gb88f096b-15.98.0.r3350.g80e885e7-1
                          kitinerary22.08.1.r2396.g3410116a-122.08.1.r2398.gb7737678-1
                               kmail22.08.1.r26534.g8582350b7-122.08.1.r26536.g2619a74db-1
                           knewstuff5.98.0.r1388.g35320e38-15.98.0.r1389.gceba876e-1
                              knotes22.08.1.r3696.g84b67a8b-122.08.1.r3697.g75f66b45-1
                      knotifications5.98.0.r759.g6281974-15.98.0.r760.g0450e43-1
                                koko 22.06.r25.g9f352ee-1 22.06.r26.g4ce78c2-1
                            kongress 22.06.r30.g9639f36-1 22.06.r31.g407d497-1
                             konsole22.08.1.r8617.g2b3d46fa-122.08.1.r8618.gf4b6cabf-1
                             kontact22.08.1.r5570.g59802d96-122.08.1.r5571.gd5c7202f-1
                    kontactinterface22.08.1.r708.g18d6cdb-122.08.1.r709.gcbb50d8-1
                              kopete22.08.1.r16451.gf605ed945-122.08.1.r16452.gac28f78d7-1
                          korganizer22.08.1.r11797.g4f7fab3f2-122.08.1.r11799.g2f889ce4c-1
                        kpimtextedit22.08.1.r1624.gf3cdc48-122.08.1.r1626.g4078c88-1
                    kpublictransport22.08.1.r2046.g1bc888f3-122.08.1.r2048.ga806a78c-1
                           krecorder 22.06.r25.gc263a6c-1 22.06.r26.gbc44a47-1
                             krunner5.98.0.r788.g6daf35c-15.98.0.r789.g780337b-1
                             kscreen5.25.5.r1538.g07f2f68-15.25.5.r1539.g1b2d0cc-1
                               ksmtp22.08.1.r460.gf14c06f-122.08.1.r461.ge8b0fc8-1
                            ksquares22.08.1.r574.g7cc207d-122.08.1.r575.g8f62c7e-1
                          ksystemlog22.08.1.r754.gcf2dfea-122.08.1.r755.gabb98ec-1
                         ktexteditor5.98.0.r3545.gfa13320b-15.98.0.r3546.gd1744032-1
                            kweather 22.06.r78.g561d6ec-1 22.06.r80.g365c352-1
                                kwin5.25.5.r23219.g16a5831fe-15.25.5.r23223.g95742bf2e-1
                              kwrite22.08.1.r19586.g20c8b60ea-122.08.1.r19593.g6daa2d968-1
                           libksieve22.08.1.r1741.g02a50cf6-122.08.1.r1743.ge82dad2e-1
                        libksysguard5.25.5.r2434.gc3655d6-15.25.5.r2435.gab3ed19-1
                          mailcommon22.08.1.r1292.gfbf2167-122.08.1.r1293.g77b4c0c-1
                     maliit-keyboard 2.3.1.r0.g9673c8e8-12.3.1.r13.gf11efc9b-1
                        markdownpart22.08.1.r135.g218c38e-122.08.1.r136.g47c7fd1-1
                            maui-pix  2.2.0.r8.g5ef7ce1-1  2.2.0.r9.g7747d4a-1
                             mauikit2.2.0.r14.ge1516871-12.2.0.r15.gc53db67f-1
                          messagelib22.08.1.r6672.ge88ab7359-122.08.1.r6674.g9e64161d7-1
                             neochat22.06.r141.ge28d1918-122.06.r145.g36880d00-1
                            palapeli22.08.1.r1313.g145d8bf-122.08.1.r1314.g5915c28-1
                   pim-data-exporter22.08.1.r2786.g5709df23-122.08.1.r2788.g14a1e296-1
                    pim-sieve-editor22.08.1.r1653.gaf93fbd-122.08.1.r1654.g826da88-1
                        plank-player        r55.9aa61fa-1        r58.462bbe5-1
                    plasma-bigscreen      r513.g885deff-1      r516.g5832ea2-1
                      plasma-desktop5.25.5.r9658.gbd676333c-15.25.5.r9662.g2664a3a94-1
                       plasma-dialer22.06.r119.g3461f97-122.06.r122.g393a28e-1
                    plasma-framework5.98.0.r16427.g3ec8b097c-15.98.0.r16430.g2900b2708-1
                       plasma-mobile5.25.5.r1980.ge11f31f48-15.25.5.r1987.gfd5eb22a0-1
                    plasma-mobile-nm5.25.5.r3336.ge914305c-15.25.5.r3338.ga6133e39-1
                         plasma-nano5.25.5.r196.ge5b051c-15.25.5.r197.geac37be-1
                           plasma-nm5.25.5.r3336.ge914305c-15.25.5.r3338.ga6133e39-1
                           plasma-pa5.25.5.r1090.g0fee41e-15.25.5.r1092.gf2c0944-1
            plasma-remotecontrollers      r133.g4411c9c-1      r134.g95b2ed3-1
                     plasma-settings 22.06.r97.g5afcbb0-1 22.06.r98.g2435afe-1
                plasma-systemmonitor5.25.5.r627.gbfe2062-15.25.5.r629.ge0d0209-1
              plasma-wayland-session5.25.5.r12389.gef57cd3d5-15.25.5.r12397.geb1d7431d-1
                    plasma-workspace5.25.5.r12389.gef57cd3d5-15.25.5.r12397.geb1d7431d-1
                          plasmatube 22.06.r32.g4594844-1 22.06.r33.g39ba9cb-1
                          qmlkonsole 22.06.r43.g6f19359-1 22.06.r45.gf1e4b6c-1
                  qqc2-desktop-style5.98.0.r675.ga03c9b4-15.98.0.r676.g6cc2cf2-1
                            spacebar 22.06.r76.g538438b-1 22.06.r77.g3fb4b99-1
                           spectacle22.08.1.r1388.ge431fdd-122.08.1.r1389.gfbf17f3-1
                      systemsettings5.25.5.r2718.gb3ce91ba-15.25.5.r2719.g68c53794-1
                             tokodon 22.06.r37.g9f22197-1 22.06.r39.gfb56fe5-1
                               vvave  2.2.0.r4.g2686e9c-1  2.2.0.r5.g6f2e7db-1


:: Different sync package(s) in repository multilib x86_64

-------------------------------------------------------------------------------
                             PACKAGE           2022-09-24           2022-09-25
-------------------------------------------------------------------------------
                          lib32-gtk2            2.24.33-1            2.24.33-2
                    lib32-libnghttp2             1.49.0-1             1.50.0-1
                        wine-staging               7.17-1               7.18-1



Check if your mirror has already synced:
2 posts - 1 participant
➠ Komplette Nachricht lesen
Zur Startseite
➤ Ähnliche Beiträge für '[Testing Update] 2022-09-26 - Firefox, 0 AD a26, Gradience, Linux Firmware, Wine Staging'
Team Security Diskussion über [Testing Update] 2022-09-26 - Firefox, 0 AD a26, Gradience, Linux Firmware, Wine Staging